Farewell Lou Rawls.
I know we'll never find another love [voice] like yours.
When I was growing up, we had a console stereo, and a handful of records – albums like Peter and the Wolf, William Tell, and Louis Armstrong's Hello, Dolly. One year, we got a new Webcor stereo, and a few albums to go with it. Lou Rawls' Tobacco Road was one of those records. We played it until the grooves turned white.
- EDITORS' NOTE -
Today's Headlines for Wednesday, Jan. 4 included an article, "12 Miners Found Alive 41 Hours After Explosion," about the mining accident in West Virginia. That article relied on attributed sources, including a named official from the West Virginia Department of Military Affairs and Public Safety, and victims' family members. Later information determined that 11 miners were dead and one survived.
The big buzz in the news industry today is attribution. CNN was talking about it last night, and the Times is talking about it today. Everybody got the story wrong. Another black eye for the news media. They've been running full-on damage control since last night. A few more news cycles, though, and all will be forgotten.
:::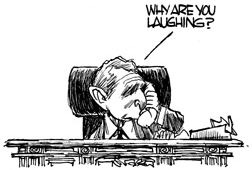 See the full cartoon by Jim Morin at MiamiHerald.com.
The cartoon ran 12/14. On 1/4, the story breaks that NBC is investigating whether Bush spied on CNN's Christiane Amanpour... Wonder what Fox will have to say about this story, if it gets legs.
:::
Something to chew on
Postmodernism involves 'an eruption of language into the aesthetic field,' dethroning the idea of the artist as the creator of an original image... it has offered pastiche, appropriation, and ironic allusion... [postmodern art is] an art addressed to spectators who are more likely to be puzzled than dazzled and whose thirst for visual pleasure often seems deliberately thwarted. – From Picture Theory by WJT Mitchell
:::
"I've got great shots of people like Paris Hilton, but I didn't include those because any day, people can pick up magazines and see people like her, Lindsay Lohan and Jessica Simpson." – Richard Corkery
Daily News photographer Richard Corkery has a show at the Brooklyn campus of Long Island University through Jan.27. His photos can be seen at the Humanities Building Gallery, Flatbush Ave. and Fulton St. [more...]
2K6 / Twenty-Ought-Six
Happy National Hangover Day. My apologies once more for going so long between posts. I've been a bit distracted.
The new year came at me like a bullet. I can't believe how fast we leapt from Halloween-to-Thanksgiving-to-Christmas-to-New Year's.
I got to spend time with my family in places like Dallas and Westchester. I'm happy to report that my three aunts in the Dallas area, that I was a bit worried about, are living well. There were so many of my New Orleans relatives in Dallas this Christmas, that Dallas felt a bit like New Orleans in exile.
Santa was good to me — of course, I was a good boy last year...
Maybe I'm a bit macabre, but I regret that I've been to Dallas twice, and I still haven't seen Daly Square and the Book Depository. We almost went this year, but no luck.
We watched 'New Year's Rockin' Eve' last night, like so many people around the country. Cosmetics, surgery, soft lighting, and maybe a little gauze over the lens helped Dick Clark look better than expected a year after his stroke, but there was no getting around his physical impairment. Folks at the party were debating whether this was Dick's last hurrah on screen. The camera didn't linger on him, often cutting away to other visuals while Dick's voice-over continued. But at one point, it seemed that Dick started to ramble, and they actually cut away to a commercial in mid-sentence.
When Mariah [The Most Misunderstood Black Woman in America] Carey came on screen, the room buzzed. There were comments about her weight, her thighs, her dress. There seemed to be a collective wish for a wardrobe malfunction: did her outfit have a halter or not??? Could you do a delay on a live New Year's Eve broadcast? There was a moment where I realized that the same kind of comments and observations (maybe the exact same words) were being made in thousands, maybe millions of living rooms, bedrooms, dens, and spare rooms all around the country.
Hundreds, perhaps thousands of people in Times Square were caught on camera wearing Chevrolet-logo-emblazoned hats. Thousands more around the city wore 2006 glasses. Four years from now, there will be no more double-ought numbers, which make such convenient lens sockets, and one fashion trend will become extinct.
On the train ride home, we saw a number of inebriated people. One woman looked dreadfully close to alcohol poisoning. Another guy sat on a bench, barfing. His glasses had fallen onto the floor and into the middle of his effluent. Yecch.
On the train, someone puked, the evidence appearing after the car cleared a bit at one of the stops. Someone sprayed some cologne into the air, just about the time the stench started to waft into our section of the car.
I wondered aloud how many hundreds of retching revelers would ride the subways last night. I imagine that subway cleaning crews have a lot more to mop up on New Year's Day, than any other time of the year. Riding the subway and walking the streets today, there seemed to be a lot of evidence to support my theory.
Another thing made obvious today: National Hangover Day is observed by more businesses than Martin Luther King's Birthday; but if you're a brunch-oriented restaurant, it's a big day for business. Bar Tabac in Cobble Hill was packed. I suspect it's one of their best days of the year. Who wants to cook on New Year's morning?!
Today, I've been reviewing and expanding my plans for the new year. I believe there's a fair amount of studio work in my future, so I'm thinking of ways to set up the living room so that it can convert to a studio when I need it.
I've shot nearly 33,000 frames with my D100, and it's having issues these days. Visiting one of the better photo clinics in Manhattan, I was told that the repair would be 'pretty expensive.' While that's not very precise, I figure I could have bought a few good accessories, at least, with that kind of money. I had started to drool over the oh-so-expensive D2X after trying one at a recent photo show, when a friend told me that the D200 had finally been announced. The write-up on dpreview.com convinced me that not only was this a great camera, but that it offers about 90% of what the D2X offers for about 1/3 the price. The reviews that have come out since confirm that, and also indicate that the D200 is even a great value compared to Canon's 5D and 20D models.
The new camera is on order. Yesterday, I actually got to handle a D200 in the flesh for a brief while. The experience confirmed what my instincts had told me. Now, my instincts tell me that the D2X will be replaced in a lot less than the 4 years between the D1X and the D2X.
This will be a big year for my photography, as well as my other creative endeavors.
I hope it's a great year for you, too.