From: Ann Broomell
Subject: Jack Feiereisen Memorial
Date: June 8, 2005 11:47:30 PM EDT

Dear Friends,
I am writing to inform you of Jack Feiereisen's death in February of this year. Some of you may have heard this news along the way and I apologize for not making earlier, more personal contact.

Jack touched many people's lives and I have happy memories of my time with him and my times with good friends. Jack was diagnosed with Colon Cancer in January, then developed a blood clot that travelled to his lungs, and he died very suddendly while in a hospital in Trinidad. He had been actively pursuing his dreams and sailing on "Dreamwalker" until just prior this illness, and he led a very full life.

In celebration of that life, I am organizing a memorial event/party on June 25th. Please join us if you can. Otherwise I would love to hear from you and catch up on recent times. Hope your lives are well and happy. Let me know your plans.

Ann Broomell

MEMORIAL FOR JACK FEIEREISEN

Please join in gathering with friends and family for an afternoon celebration of Jack's life.

-Saturday, June 25th
-Hearthwood Point, Minocqua, Wisconsin
-2pm--Get Together
-4pm--Stories/Sharing
-5:30--Food Time

We will have an outdoor tent, food, music, and beverages. Bring stories, writings, words, memories, or tall tales to share. If you can't be in Wisconsin for this event, feel free to send any items/writins/photos you would like to share.

Rustic camping available nearby at Pioneer. Hotels plentiful in Minocqua area, but reserve soon. See attachment for map.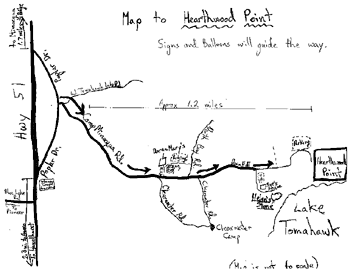 Not surprisingly, Jack had a lot of friends. I'm sure this will be a well-attended and celebratory event.
:::
Who Edits This Junk, Anyway?

Thank you, Associated Press.
:::
"Words are loaded pistols." – Sartre
"The more you reason, the less you create" – Raymond Carver
"Writers don't write, they read and transcribe." – William S. Burroughs
I'm still a bit amazed
that Macs will be all Intel-based in two years. They've already got Tiger running on an Intel-based Mac. I hadn't really noticed that it's been 10 years since Apple's switch to PowerPC chips. While the original PowerPC design might have been a joint venture between IBM and Motorola, Moto has been out of the picture for a long time.
One theory I heard about the switch: IBM can't update their chip designs fast enough (e.g. there's still no low-power/laptop version of the G5 chipset) to meet Apple's needs. In addition, IBM is much happier concentrating on building chips for game console makers, who will buy them in much larger quantities than Apple ever could.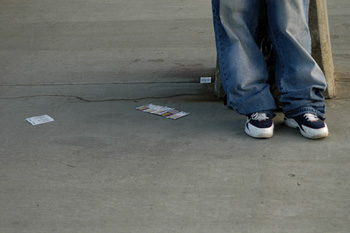 More Train Riding
A girl in her late teens was carrying a pocket book with a cartoonish depiction of a rabbit holding a pencil. Beneath the rabbit, and spanning most of the width of the purse were the words "School prepares you for the real world, which also stinks."
Blanketing the poster holders of another subway car were ads for Budweiser. Big bold headlines read "Crisp/The signature taste," "Pure/Only natural ingredients," and "Clean/The taste and the finish." The images showed a detail of the Bud bottle floating in what looked like... a river of piss! Unfortunately for them, the red they use so prominently in their ads looks like blood to me. I've never been a big Bud fan, anyway.
:::
"I'd rather let it come together, than struggle to put it together."
– Harvey Wilson, Brooklyn artist
:::
As of today, Stanley Crouch still hasn't responded to my e-mail. I can't say that surprises me, but it's a little disappointing. I do suppose he gets a lot of mail.