The funeral for Councilman James Davis is being held at a church on Classon Avenue, a few streets away from my apartment. I can hear gospel singing wafting across the rooftops to me. It sounds beautiful, and reminds me of the service we had for my grandmother back in December.
The Davis funeral is a big deal. The police were there setting up for the event yesterday, most likely securing the place for the luminaries who are no doubt attending this high-profile event. Eyewitness News already had two TV trucks positioned on the street yesterday. If this funeral is at all like the one for the slain police detective that was held there several months ago, several blocks around the area were closed off and turned into parking lots.
I read that Davis lay in state inside City Hall yesterday, the first time that such an honor has been bestowed on anyone for more than 100 years.
You'd have to be pretty good at avoiding news outlets to miss the fact that Bob Hope died. Starting yesterday, there were news stories galore, and we're starting to see all kinds of retrospectives. I got a strange chuckle out of thinking back to how someone in the Senate had mistakenly heard Bob Hope had died a few years ago, and spent several minutes eulogizing him. I wondered if the same folks paused to double-check their sources when they heard this time.
:::
Right-wing girls assume the position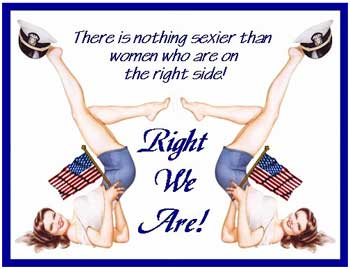 I couldn't have done a better parody, but these folks are apparently serious. They bill their blog as "a conservative, pro-US, Republican blog by two chicks on the Right side!" I guess Republican girls just wanna have fun. So nice of 'em to turn a little (slightly flat) cheek.
You guys are just the best dumbass cheerleaders I have seen in a while.

--Ecosse (some frog)
Check out this pic from the site, titled "Time for the Voting." Hilarious, right? Makes you feel warm and fuzzy, doesn't it? I know Charleton would have loved it.