Saturday, June 18, 2005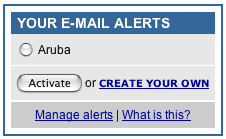 A lesson in lame design from CNN
This e-mail alert interface widget is on the sidebar of an article about the girl who went missing in Aruba. There's only one option available, which would dictate a check box, not a radio button. Once the user clicks the radio button to select it, they can't de-select it. I suppose once you've got a few alerts activated, maybe radio buttons would make more sense. I'd hazard to guess that your active alerts would all be listed, and you could use the radio buttons to select and deactivate some. Of course, there's already a "Manage alerts" link, which ought to provide a certain amount of control over such matters, but I'm speculating. It requires a whole registration process, and I'm not interested enough to experiment. Suffice it to say, the default appearance when there are no alerts set, looks lame. I wonder if this is a case of a clueless interface designer, or one of management meddling.

"The amount of erotic content a work of art can hold in solution is very high."
– Kenneth Clark
:::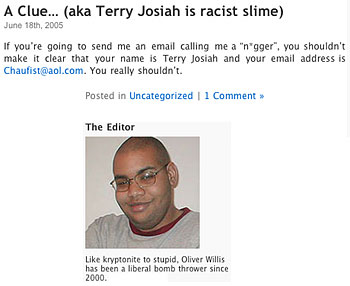 Go get 'em, Oliver.
:::
For a couple of days now, I've fooled around with the templates and themes feature of iView. I'm getting somewhere. Using the feature, I'll be able to generate web galleries of my shots, using my own page design, with minimal editing after the page is built. I've never been fond of the generic galleries that come out of iView or even iPhoto. With this feature I can add my own branding and copyright notices, and omit the "Built with iView" badge and link.
That's all good. What's not good, are the bugs and the crappy code that they use in their example pages. Some of it looks like it was written in HTML 2.0.
I had to mess around a bit to figure out that the tag that's supposed to insert the full-size view of my image into a page was inserting a goofy little gif icon, instead. Since I'm on a unix-based host, capitalization is important. That ruled out some other options. Finally, I figured out a work-around. I generated a test gallery, and my full-sized image sprang into view.
The next thing to do, is to work up a nice design using good, clean HTML and CSS. I think I already have an application for it with a client.
Wednesday, June 15, 2005
PBS: Not a Hoax This Time
I can't count the number of times I've been forwarded the infamous "This morning on NPR, Nina Totenberg said..." e-mail. I waved somebody off just a week or two ago. Now, it looks like the hoax e-mail was a collective premonition.
Friday, June 10, 2005
A House subcommittee voted yesterday to sharply reduce the federal government's financial support for public broadcasting, including eliminating taxpayer funds that help underwrite such popular children's educational programs as "Sesame Street," "Reading Rainbow," "Arthur" and "Postcards From Buster."

In addition, the subcommittee acted to eliminate within two years all federal money for the Corporation for Public Broadcasting -- which passes federal funds to public broadcasters -- starting with a 25 percent reduction in CPB's budget for next year, from $400 million to $300 million.
MoveOn is organizing a response. They've already collected 300,000 signatures opposing the action, and they're aiming to collect another 100,000 by the end of the day. Please sign the petition.
IN REALITY, THE ARTIST WHO 'SELF-CENSORS' IS CENSORING (AND HENCE DISRESPECTING) THE ART, AND THE PEOPLE WHO ARE DENIED ACCESS TO THE ART. (S)HE IS ALSO MAKING THE CENSORING OF OTHER ARTISTS ... AND PEOPLE IN GENERAL ... MUCH EASIER.
I need to keep this in mind. I sense that it has even broader significance than I understand right now.
:::
Yesterday's NY Post
couldn't take acquittal for an answer. The headline read "Boy Oh Boy," and the subhead referred to Michael Jackson as "Jacko." Now, that's what I call impartial, thoughtful reporting. Clearly, the press has its own convictions.
:::
Conn. Gov. Vetoes School Junk Food Bill
HARTFORD, Conn. - Republican Gov. M. Jodi Rell vetoed a bill Tuesday, 6/14/05, that would have banned most soft drinks and junk food from Connecticut school cafeterias, school stores and vending machines. The legislation also would have required 20 minutes of physical activity for young students through fifth grade each day, outside of gym class.
In an Orwellian turn of phrase, the governor said that imposing state standards on school districts for nutrition and physical education "undermines the control and responsibility of parents with school-aged children." Instead, the governor called on the education commissioner to develop guidelines for school nutrition and physical education policies. Guidelines, of course, are merely suggestions. If "rules are meant to be broken," guidelines are meant to be ignored.
The real deal: Soft drink companies had lobbied fiercely against the bill, and schools expressed concerns about losing revenue from sales.
:::
"In our Diogenes search for physical beauty, our instinctive desire is not to imitate, but to perfect."
– From The Nude by Kenneth Clark
Tuesday, June 14, 2005
Luv LumiQuest
So much of photography is about the quest for a certain quality of light. Softboxes, though potentially overused, are a good way to go, when you want an even light source with soft shadows. It's a particularly nice kind of light when you want to do fill flash, or when reflective surfaces are involved. Too often, strobe lights just blow out the highlights. My SB-800 comes with a diffuser dome, but the light through it was still too hot and uneven in most cases. I'd seen what studio softboxes can do, so...
Yesterday, I plunked down $30 (less than the cost of a movie date with snacks) for a LumiQuest softbox. I figured at that price, it was a cheap experiment.
The thing doesn't look like much: a soft vinyl box with a milky-white translucent face. Unlike a rectangular studio softbox, the bottom part of the LumiQuest box is pushed upward, like a pentagon with the tip folded inward. The translucent face of the diffuser has a little lozenge-shaped piece of translucent material affixed near its center, I guess to create a bit of extra light-absorption and even out the light's output.
The whole box attaches to the strobe with velcro. The instructions mention an 'optional cinch strap,' but I didn't see one. Maybe you have to pay for the option.
I A/B'd the softbox against the diffuser dome, and there's no question: the LumiQuest gives a more even light, and produces softer shadows. Bye-bye dome. I'll probably pick up a second softbox for the other strobe.
Monday, June 13, 2005
Stay Cool, if U Can
SPECIAL WEATHER STATEMENT
NATIONAL WEATHER SERVICE UPTON NY
412 AM EDT MON JUN 13 2005

BERGEN NJ-BRONX NY-EASTERN PASSAIC NJ-ESSEX NJ-HUDSON NJ- KINGS (BROOKLYN) NY-NEW YORK (MANHATTAN) NY-QUEENS NY- RICHMOND (STATEN IS.) NY-SOUTHERN WESTCHESTER NY-UNION NJ-

...HEAT INDICES IN THE 90S TODAY...90S TO AROUND 100 TUESDAY... THE BERMUDA HIGH WILL REMAIN ANCHORED OVER THE WESTERN ATLANTIC THROUGH TUESDAY. THIS SYSTEM HAS BEEN RESPONSIBLE FOR THE HEAT AND HUMIDITY WE HAVE EXPERIENCED OVER THE LAST FEW DAYS. UNFORTUNATELY... IT MAY GET EVEN HOTTER BEFORE COOLER AIR ARRIVES LATER IN THE WEEK.

TEMPERATURES AWAY FROM THE IMMEDIATE COAST THIS AFTERNOON ARE EXPECTED TO CLIMB INTO THE MID 80S TO AROUND 90. TUESDAY AFTERNOON MAY SEE READINGS IN THE UPPER 80S TO MID 90S. SUCH TEMPERATURES WHEN COMBINED WITH DEWPOINT READINGS AROUND 70 DEGREES WILL PRODUCE HEAT INDEX VALUES BETWEEN 90 AND 95 THIS AFTERNOON AND 95 TO AROUND 100 DEGREES TUESDAY AFTERNOON. RELIEF FROM THE HEAT CAN BE FOUND AT THE SHORES WHERE TEMPERATURES WILL BE CONSIDERABLY LOWER.

IN THE MEANTIME...TO DEAL WITH THIS HEAT AND HUMIDITY...IT WOULD BE WISE TO DRINK LOTS OF WATER OR OTHER NON-ALCOHOLIC BEVERAGES...WEAR LIGHT COLORED CLOTHING...AND IF POSSIBLE SPEND MORE TIME IN AIR CONDITIONED OR WELL-VENTILATED PLACES.

...
Like Parades?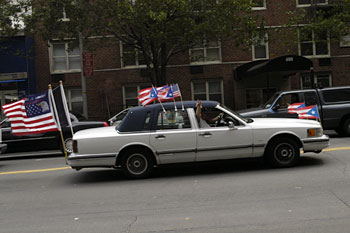 The annual Puerto-Rican day parade was yesterday. I took this on Saturday. I've been seeing cars decked-out for a couple of weeks.
Sunday afternoon, I sat in a bar that was showing the parade on the TV. The sound was down, and music was playing, which heightened the visual impact of the parade coverage for me. I saw people dancing in all sorts of Puerto-Rican flags, underscoring the focus of the celebration, but I also noticed the pervasive presence of branding. One float was decked-out with dual giant Corona Bottles. Another float, full of rappers dressed to look like clones of Fat Joe, was emblazoned with the Hot 97 logo. I'm sure the parade didn't finish without some reference to Bacardi...
The Mermaid Parade in Coney Island is a couple of weeks away. They're trying to make it kid friendly these days, so participants will need to be careful about "wardrobe malfunctions."
Yesterday, I saw a photo taken by a local Brooklyn artist, who imagines participating in this year's Mermaid Parade. I think her idea of what's permissible at the parade might be a little out of date, though.
:::
Headlines, Headlines, and Covers
• Stadium Hits Mike in the Polls – This obsession with polling numbers has to end. Besides even tiny little random-rags that call themselves publications have been prognosticating for weeks that Bloomburg would be "hurt" (in the legacy; whatever part of the body that is) if the Olympics bid failed. What would have been interesting, is if the polls hadn't moved down.
• I Blew $5M of 9/11 Cash – Lottery winners have a tendancy to blow through their winnings, sometimes ending up worse-off than before they hit the jackpot. We've seen the same thing with suddenly-rich star athletes, and with overnight sensations in the music industry. It shouldn't be surprising that some percentage of the 9/11 widows would have a similar experience.This woman is apparently the first to go public. I doubt she'll be the only one.
• This week's Time Out had a cover feature about "Babyburg" – how folks in "Billburg" are becoming parents – trading nipple rings for teething rings.
:::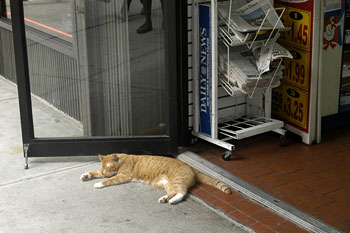 Forget whatever you heard about the "dog days" of Summer.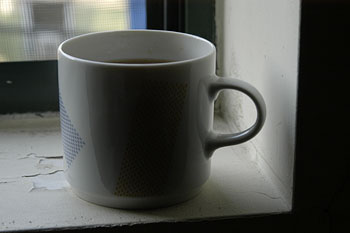 Just a couple of weeks ago, the thought of a hot cup of tea in the morning was a very good idea. This photo doesn't show it, but you could see steam rising from the cup that morning.