Art's in Bloom
Spring is here, and there are art walks breaking out all over. I've been dusting off the SONYA (South of the Navy Yard Artists) site, in preparation for the Studio Stroll next week. [I'm stop #8]
The Park Slope & Environs Open Studio Tour is today and tomorrow, May 14 & 15th from noon to 6pm. You can download a map at bwac.org.
Williamsburg Gallery Association is doing an event called "Taste," tomorrow, May 15, featuring 20+ galleries and 20+ restaurants. Feed the mind and spirit while you feed your belly.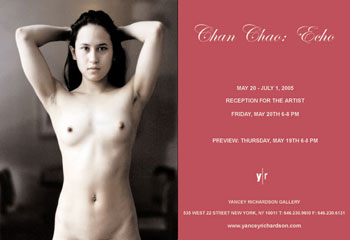 Chan Chao's work is meticulous and subtle. He really knows how to capture a portrait. The presence of the person seems to emanate from the surface. You sense the connection between the photographer and the subject.
He exploded onto the scene via the Whitney Biennial. In his series "Burma: Something Went Wrong," he phtographed refugees in a camp on the border of Burma. The photographs are simple and engaging. They draw you in. The new series, "Echo," is a striking take on the female nude which demonstrates the same deft touch.
These are not figure studies, They're portraits. Perhaps as in Lucien Freud's paintings, the photographer views his subjects as naked, not nude. As with the Burma series, the subject is immersed in a setting, but the image is all about the person portrayed. The lighting doesn't distract, or inject undue drama.
Images of naked women are automatically viewed as being eroticized, but Chao avoids the provocative or clichéd poses of pinups and porn. The gazes are direct and confident. The stances are somewhat classical. The expressions are not those of the virginal ingénue, the submissive nymph, or the voracious predator. Instead, these women are empowered, and comfortable with themselves and their bodies. It seems that Chao is attempting to portray a kind of beauty that transcends the physical.
In case you can't read the text of the announcement: Show runs May 20 – July 1. Reception Friday, May 20, 6-8 pm.
Yancey Richardson Gallery
535 West 22nd St, NYC
:::
From: Warren
Date: May 11, 2005 4:35:09 PM EDT

This is a verified quote.

"Should any political party attempt to abolish social security, unemployment insurance and eliminate labor laws and farm programs, you would not hear of that party again in our political history. There is a tiny splinter group, of course, that believes that you can do these things. Among them are a few Texas oil millionaires, and an occasional politician or businessman from other areas. Their number is negligible and they are stupid."

– President Dwight D. Eisenhower, 1952
"PLEASE DON'T HANG UP.
If you enjoy TV, find out why twenty-five million..." *CLICK*
[Seems I get at least one automated pitch call a day, now. Wouldn't you just love to be able to zap their message machines?]
:::
Back to the Future?
Not that long ago, Chevron Corporation bought Texaco, and changed its name to CevronTexaco Corporation. Today, they [it?] sent out this press release:
SAN RAMON, Calif., May 9, 2005 — In a move to present a clear, strong and unified presence in the global marketplace, ChevronTexaco Corporation is changing its name to Chevron Corporation (NYSE: CVX), effective immediately.
Interesting, that they omitted the word "back" from the release, as in ChevronTexaco Corporation is changing its name BACK to Chevron Corporation...
:::
Did you hear
the one about the Democrats getting voted out of the baptist church?
Uh, no, it's not a joke.
:::
My Friend Andrea has a show opening at Gallery Boreas on Friday night (the 13th), from 6-9. She's also doing an artist talk on Saturday, May 14 from 2-3pm. The show runs through June 12.