Friday, October 24, 2003
The OS X Panther launch is tonight. It's good stuff.
While sort of on the same subject, Amazon now has indexed the entire text of more than 120k books. I tried searching for "Panther Moderns" (with the quotes), expecting to find "Neuromancer," but the results are more interesting than just that. I struck a treasure trove of books on media culture.
:::
Frank Gehry's new Disney Concert Hall opened yesterday in LA. It's fascinating architecture.
:::
The NY Macromedia User Group meeting last night was actually a lot more interesting than I expected. Jonathan Kaye was talking mostly about using UML and state machine modeling to design simulations.
Even though the applications he demonstrated were done in Flash, his design methodology is really a higher-level approach that fits well with standard OOP concepts, and could be implemented in a number of languages.
The thing that's very nice about his approach, is that it allows you to abstract those "invisible" objects that OOP programmers who focus purely on modeling the UI can easily miss. Jonathan did a very good job of demonstrating the benefits of abstracting simulations into interface, control, and model layers.
Jonathan recently coauthored the book "Flash MX for Interactive Simulation: How to
Construct and Use Device Simulations." If you're really interested in this subject, two other books worth reading are OOP With ActionScript, by Hall and Wan, and UML Distilled, by Fowler and Scott, or UML: A Beginner's Guide, by Jason T. Roff.
:::
I can't believe how cold it is today, and that's after the heat has been turned-up!
:::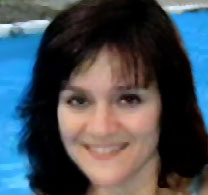 A face to go with the name
On September 14, I took a walk through the East Village, and came across a compelling image: flowers and candles marking a commemorative plaque dedicated to Joyce Ann Carpeneto on the wall of a building on East 7th Street. I took a picture and posted it here on Muse. [scroll down to the "Scene on the Streets" section to see the pic. It's right below the tribute to Johnny Cash.]
On October 22, I got an e-mail from John, one of the two friends of Joyce who had placed the flowers and candles at the site. He'd found my posting through Google, and was thrilled to see the photograph. He sent me a link to this memorial site and this poem that he dedicated to his lost friend. It's amazing how it all works sometimes.
Thursday, October 23, 2003
From: Warren
Date: Thu, 23 Oct 2003 15:21:15 -0400
Subject: Another lyric (apropos)

Was listening to Tull's "Thick as a Brick" today... I think Ian Anderson nailed this one on the head... [as if it were] dedicated to Arnold...

So come on you childhood heroes
Won't you rise up from the pages
Of your comic books/your super crooks
And show us all the way?
Well, make your will and testament
Won't you join your local government
We'll have Superman for President
Let Robin save the day....

--w
A Very Good Idea
Spinsanity is dedicated to debunking spin from all sides. I think that's what "fair and balanced" meant, before a certain network tried to trademark the phrase for their blatantly-slanted version of "news." I also think the spinsanity folks have their work cut out for them.
:::
Shoulder surfing on the bus,
The guy sitting next to me is reading print-outs of e-mailed job applications.Taking his time, he underlines elements of a cover letter from someone named Julie. He writes "maybe" on the letter, then turns to the resume. He carefully peruses the resume, again underlining as he goes. He seems to read it from top to bottom, and again from bottom to top. After spending a significant amount of time with the resume, he turns back to the cover letter and writes "yes."
:::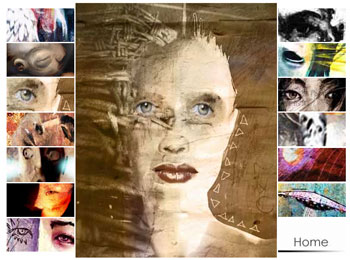 Interesting work over at Hermit-X.com
Wednesday, October 22, 2003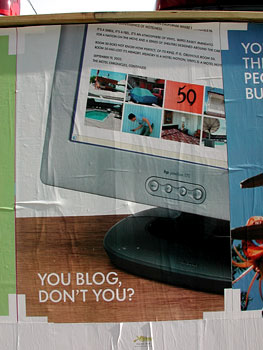 Hey! That's not a blog on that screen.
15 new pics for your pleasure today.
:::
Eric Myer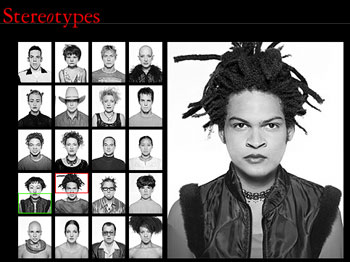 "Stereotypes" is a cool creation. Myer has divided a group of portraits so that you can interchange top and bottom to create new faces. The dividing lines don't show, so you have the illusion of a person that exists, even though you're looking at a composite.
:::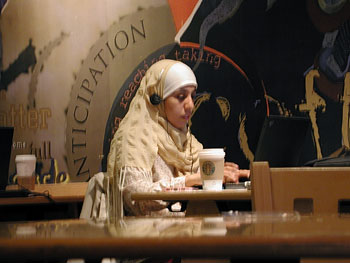 :::
An e-mail came in this morning with "Own an acre of the moon" as the subject. I guess folks have caught on to the Brooklyn Bridge thing.
:::
:::
World's first interactive poster? R/GA has created a Flash app for (literally) windows.
:::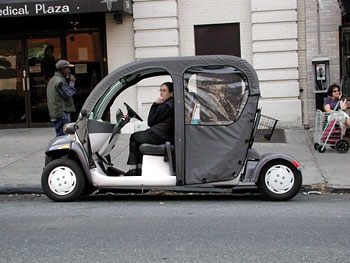 :::
I bought a root beer the other night. The woman behind the register wore a name tag that read "Desire."
:::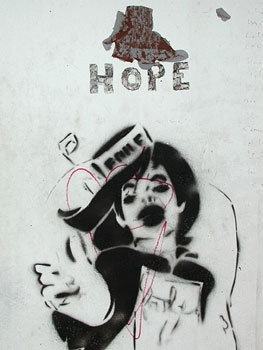 :::
On Court street, I overheard a couple of guys talking about relationships. One said "I'm inclined to believe I can git a bitch wid a good heart an' dose otha thangs..." Hmmm... I think this is what's called a blind spot.
A nearby fast food restaurant was advertising a "fryer's dozen" – 13 pieces of chicken for a special price. This is an obvious lift of the phrase "baker's dozen," which comes from an old and outdated tradition – bakers used to actually give an extra loaf of bread for every dozen sold to a retailer. On Sundays, we used to pick up a baker's dozen of donuts on the way home from church. I always thought it was called a baker's dozen because bakers are so generous.
:::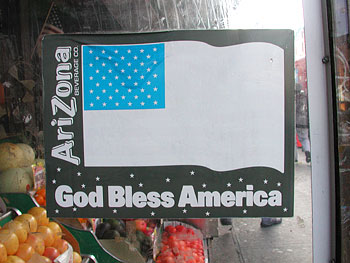 faded
:::
"I've never seen a case in which the state legislature treats someone's life as a political football in quite the way this is being done." - Harvard law professor Laurence Tribe, regarding the sad case of Terri Schiavo.
:::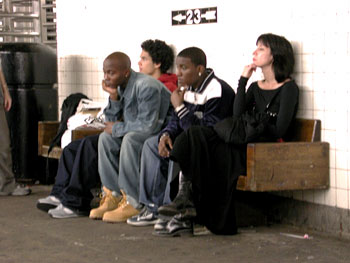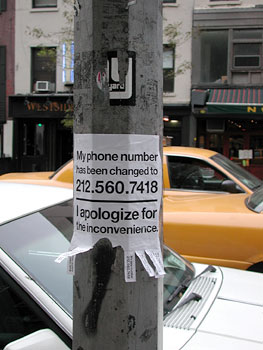 I don't know... would you call?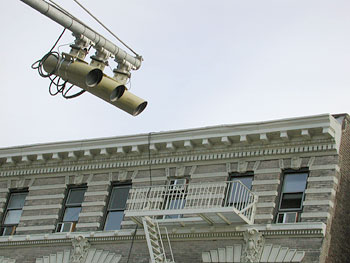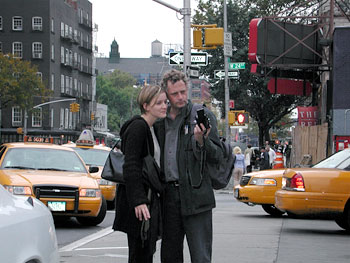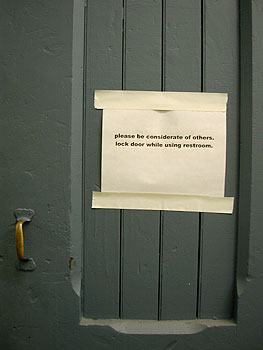 necessary?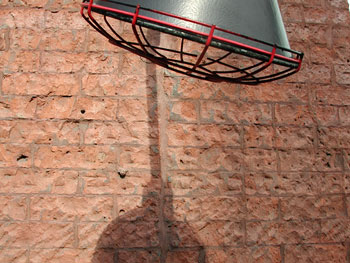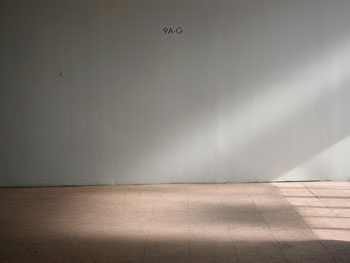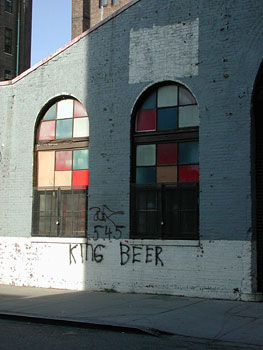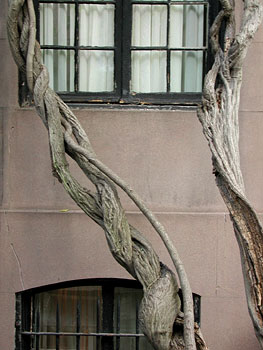 Monday, October 20, 2003
Sincerely, Nat Heatwole.
This guy is a junior at Guilford College in Greensboro, N.C. The kid looks a bit like a 20 year old Harry Potter. He claims to have successfully breached airport security six times, beginning September 12, 2003; stowing box cutters, bleach, and modeling clay shaped to imitate plastic explosive, on two different Southwest Airlines planes.
Then, he sent an e-mail detailing what he did to the authorities. TSA didn't forward the messages to the FBI until this past Friday, after one of the stashes was discovered by a maintenance crew. The only reason they found it, was because the lavatory was malfunctioning. The e-mail wasn't forwarded to the FBI sooner, because someone ruled that it was "not an imminent threat."
Federal authorities now plan to charge Heatwole with bringing a dangerous weapon aboard an aircraft, which carries a sentence of up to 10 years in prison. I guess that's because you can't charge someone with catching the Federal Government with its pants down.
Having even more fun with Photoshop
These are some of my latest creations. SONYA is hosting a show next month at Boro Hall. I plan to exhibit some of my stuff there, mostly photos.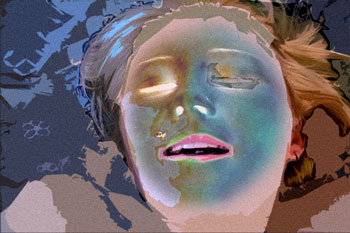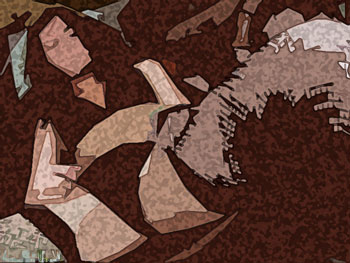 :::
The Affordable Art Fair
is returning to New York October 30 - Nov 2 at Pier 92 in Manhattan (52nd street at 12th avenue). It's billed as "Contemporary art under $5000."
:::
International A.N.S.W.E.R. is sponsoring an anti-war rally in protest of "Bush's Vietnam" in DC this weekend – Saturday, 10/25, 11 AM, at the Washington Monument.
Sunday, October 19, 2003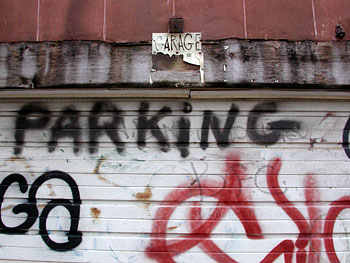 "The terrorists will continue their missions of murder and suicide until they are stopped. And we will stop them." - G W Bush
... Ever get the feeling that this guy is a one-trick pony? I guess this is what they call staying "on message."
:::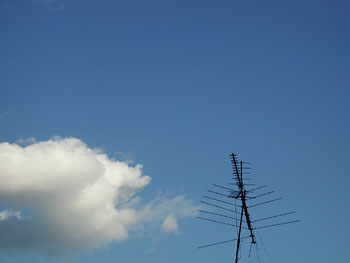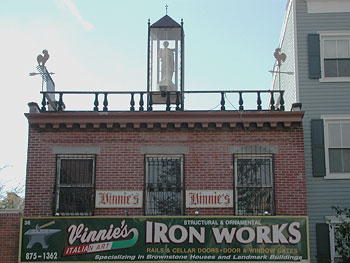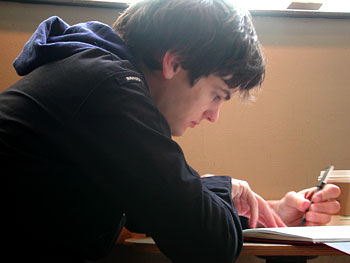 :::
d.u.m.b.o art under the bridge festival is going on. I went yesterday. On the way, I overheard some people talking about it. Someone was saying something about "...great spaces and bad art." Nothing like a nice, trite blanket statement.
The quality of the art's not the point, nor are the spaces. It's more about expression. Sure, buyers and sellers and galleries and real estate come into play, but at the end of the day, someone got to show where they work, and what they've been working on. Somebody saw someone's work and came away inspired. Somebody who's been working more or less alone in a studio for the last 6 months or so, gets to find out how the public reacts to their work. Members of a community got a chance to connect. Maybe somebody will pick up some new representation, or make a sale. And if you don't like what you see, you move on. "Bad art" is a useless concept.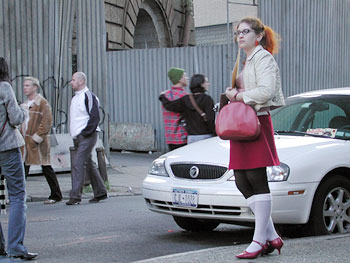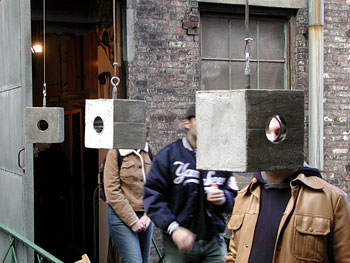 One of the performance art events was an attempt to form a giant egg out of people wearing these white overalls. I didn't hang around long enough to find out the final outcome.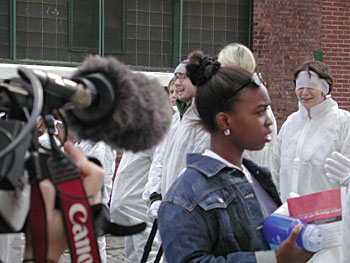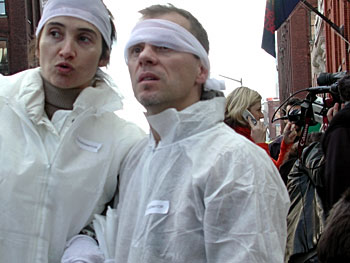 Two administrators discuss logistics