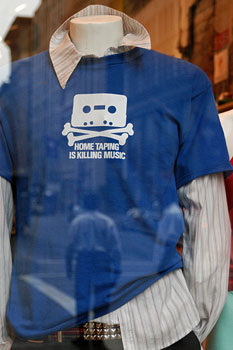 I'd forgotten
that before the scourge of internet filesharing, the music industry had cried that home taping was killing them. I believe their response was to jack-up the prices of CDs, which even then didn't cost any more to manufacture than vinyl albums.
CDs also took up much less rack space in stores and were less prone to warping and spoilage — A recipe for significant boosts in profits.

:::
Parallel songs
Lately, the lyrics of some of the songs I've been hearing are sounding like echoes of each other, instead of samples.
The sentiment in the first two closely resemble each other. I wouldn't be surprised if Lionel was listening to Otis Redding a lot around the time he wrote "Easy."
| | |
| --- | --- |
| "...I can't do what 10 people tell me to do / So I guess I'll remain the same... " | "...Everybody wants me to be what they want me to be / I'm not happy when I try to fake it..." |
The second is more of an echoed concept. I think both refer to time:
| | |
| --- | --- |
| "...24 before my love and I'll be there... " | "...Should have tried to do some more / 25 or 6 to four..." |
:::
Have I said it here already?
I keep hearing comments from people about how there's no real difference between Kerry and Bush. Meanwhile, the Post and the Daily News are barraging us with stories about terrorist plots that didn't happen, I guess insinuating that W is doing his job.
We are being done a great disservice by hyper-focusing on the "chief." You have to compare agendas, as best you can, even though most of either party's agenda is hidden. The philosophical underpinnings of the two parties diverge enough that there is a clear vote. Allowing him back in office will have terrible long-term implications for the U.S. and the world. I don't want to think too much about what the Supreme court, abortion rights, civil liberties, and corporate recklessness would look like after a second Bush term; and that's just a few of my concerns!
I've been wearing a button that says "Re-defeat Bush." Lots of people have looked at the button, smiled, and said "I like your button." Lately, folks have begun to acknowledge that it's not good enough to simply defeat him again. After all, he's in office! So now, it's "Re-defeat Bush, but do it right this time."
:::
I just downloaded SimpleViewer. It's a flash-based photo gallery tool that looks very nicely done. You control it with XML. I'll be experimenting with it soon.