What is it about Chateau Marmont?
Hard to believe that Helmut Newton died yesterday. His style was unmistakable. He was the master of cool eroticism. His work included portraits, fashion and nudes. His images had a cool heat – like dry ice. I doubt that anyone loved the female form more than he.
Just within the last couple of weeks, I thumbed through "White Women" and marveled at his unmatched skill. I was amazed when I had the chance to go through a copy of "Sumo" – the $3000 "coffee table book" that is literally the size of a coffee table and packed with pristine quality oversize prints, one per page.
He was 82 – older than I thought – and what a life he led. On the other hand, he still seemed to be going strong. Out of the blue, he crashed into a wall in front of the Chateau Marmont (the same place that Belushi died). I wonder how many others met their ends there.
:::
Sorry to hear about Captain Kangaroo, too. Takes me back to some early childhood memories. Thanks, Captain! Bye-bye!
"There are 10 kinds of people:
those who understand binary numbers, and those who don't."
:::
Every great photograph springs from two essential choices: where to stand, and when to release the shutter.
On one level, that point is so obvious, it is likely to be ignored, but it's the kind of well-explained observation that makes On Being a Photographer an extremely valuable book. An appropriate subtitle might be "the inner game of photography."
The book is essentially a transcript of a long conversation between lensmen Bill Jay, who acts as interviewer/moderator, and David Hurn, a world-class Magnum photographer, about how a professional photographer thinks and operates. It touches on issues like equipment, film, and good shoes (perhaps the most important piece of equipment a serious photographer needs), but the meat of the book focuses sharply on what it means to be a photographer. Best of all, On Being a Photographer doesn't even bother to cover subjects that are better covered in specific technical books. It succinctly covers what might be called the Zen of photography with frank clarity.
If this book doesn't fundamentally change the way you think about photography in some important and subtle ways, it will at least confirm for you that you have the professional instinct deep in your bones.
:::

Riding the F train the other day, I saw a woman with a great baseball hat. It was black with white stitched-on lettering. Rather than try to describe it, I offer this approximation of the design.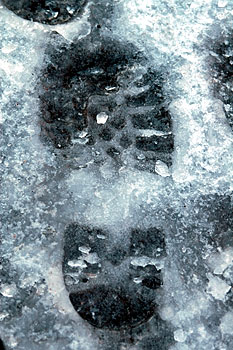 Yes, it is
They're talking about it remaining cold for a while, and it's been twenty-some-odd years since it was last this cold. Good thing I've got my long down coat. As you can see from the picture above, it did get warm enough to give us a freezing rain that softened the snow for a minute, then fossilized footprints all over the sidewalk. Walking is a little treacherous in places.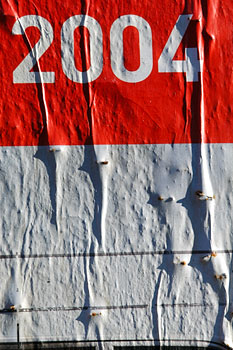 The weather hasn't stopped me from shooting over the last several days, but a flurry of other activity has kept me from posting.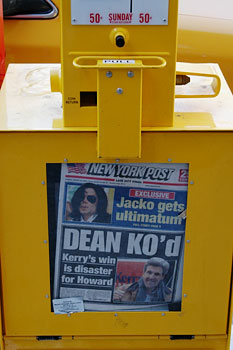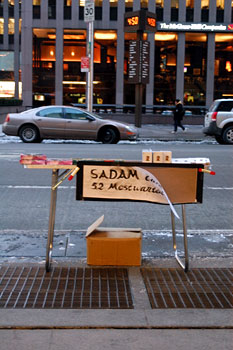 The Iraq Most Wanted deck is down to $3
Well, it's high season for politics from here on out, I think. The one-two punch of Iowa and SOTU last night were a bit much. It's all high-stakes theatre these days. Watching Ted Kennedy shake his head in disgust or disbelief – I'm not sure which – was refreshing. Nice to see that not everyone was doing the puppet thing and bouncing out of their chairs to applaud, sometimes very mechanically, every couple of sentences. Did you notice how uncomfortable (wooden) some of those soldiers looked?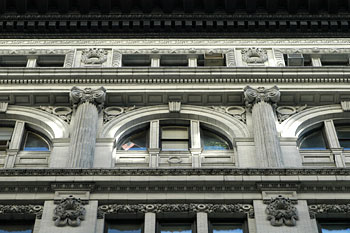 A patriot's act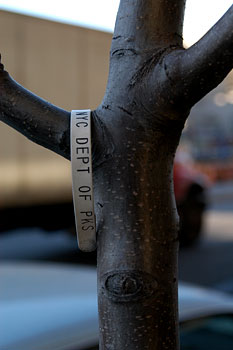 Not dead yet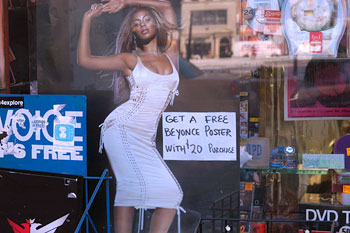 Oliver Wills would love this bargain
:::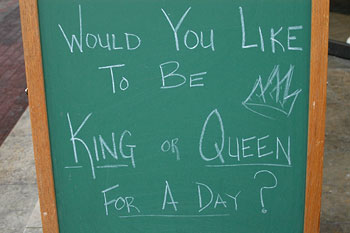 Only one day?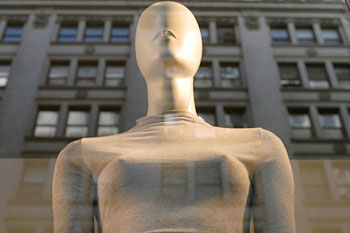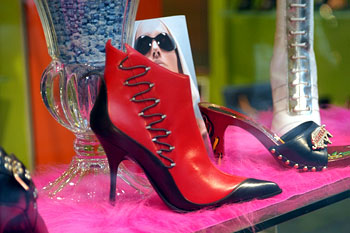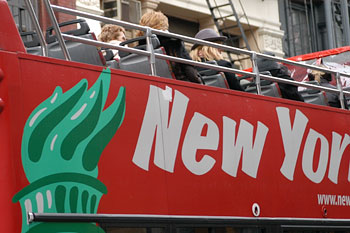 Je suis un touriste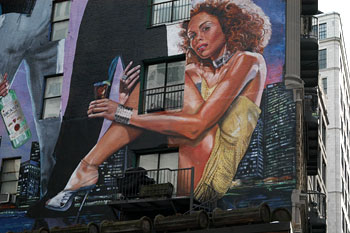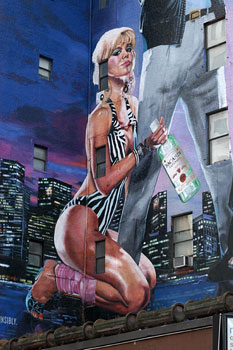 Babes sell rum. Notice the grip. Remind you of anything?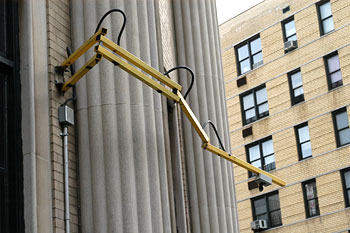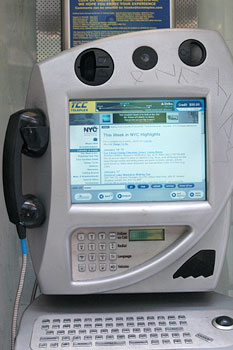 Internet pay phone near Union Square.
I've actually seen people using this thing. It's almost like that scene out of Blade Runner.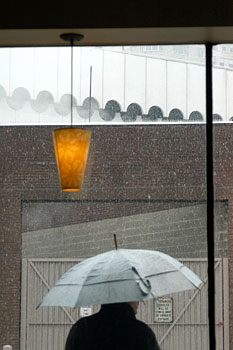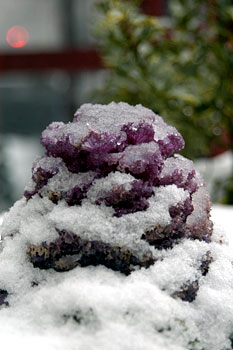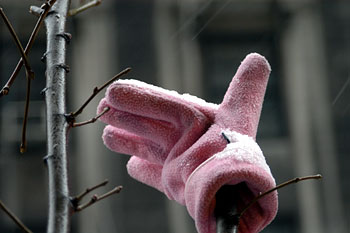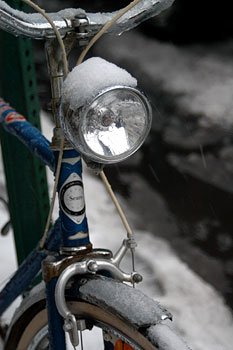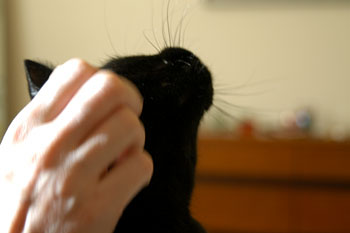 Inside, it's warm and cozy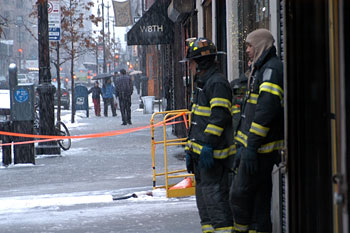 Sad to read the story of the woman who was electrocuted while walking her dogs the other night. They put transformers under the sidewalks around Manhattan, and sometimes the water and snow salt and corrode and damage the containments. A piece of metal reinforcement inside a concrete slab became a deadly conductor, turning the sidewalk into a high voltage booby-trap. In other cases, the corrosion has caused these transformers to explode.
These two pictures were taken the day after the dog walking incident. You can see the thick electrical cables that they've cordoned-off with orange tape. As I approached, the firemen waved me around the area. I imagine firemen were posted near electrical hazards all around the city that day.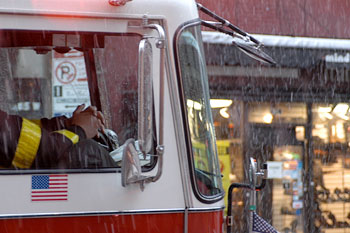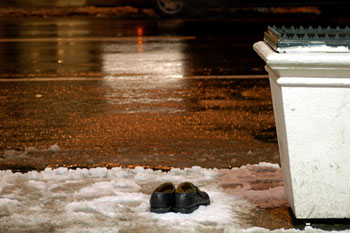 Guess they didn't need them any more