A few more pix, and back to work today.
I took a stroll near Borough Hall today. Stopped in to the Barnes and Noble and saw this child carrier in the entry foyer: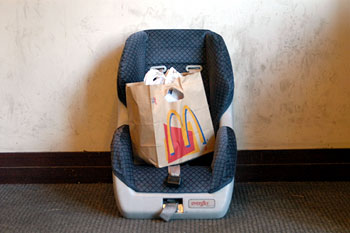 Nothing but the best, I suppose.
At the corner of Court and Jouralemon, I came upon this wonderful juxtaposition of images – blind Justice atop Borough Hall, and socio-political commentary on the back of a crossing sign.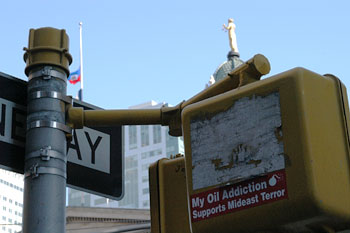 Walking through the park behind Borough hall, I came upon a group of pigeons, all balled up, barely moving, looking as if they were wearing fat down jackets. I approached and took a few pictures. They didn't really get animated until several gulls started circling overhead. Then, they started taking off briefly and landing a few feet away. I stopped taking pictures of the pigeons huddled on the sidewalk, and focused on the ones coming in for a landing. I began to notice them as they approached, and started lining up my shots...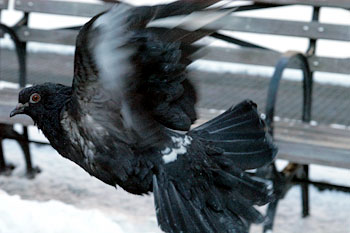 Woody Allen refers to them as "rats with wings" in one of his movies, and I do think they're pretty dirty animals, but there are moments when they can be interesting.
:::
"I have to change; it's like a curse." - Miles Davis
An article in Jazziz magazine gives this account of an interaction between Miles and one of his fans in the mid-1970s.
Fan: "Miles, you're my man, but that new shit you're into, I just can't get with it."

Miles: "Should I wait for you?"
A fellow photographer sent me this
PHOTOJOURNALISTIC ETHICS QUESTION
Here's a dilemma for you... With all your honor and dignity what would you do? This test only has one question, but it's a very important one. Please don't answer without giving it serious thought. By giving an honest answer you will be able to see where you stand morally. The test features an unlikely, completely fictional situation, where you will have to make a decision one way or the other. Please scroll down slowly and consider each line -- this is important for the test to work accurately.

You're a CNN photographer in Florida – Miami, to be exact...

There is disaster and chaos everywhere, caused by a hurricane and severe floods. There are broad expanses of water all around you. The situation is nearly hopeless.

There are houses and people floating all around you, disappearing into the water. Nature is showing all its destroying power, ripping away everything in its path.

You're trying to keep your cool and shoot the most powerful photos of your career.

Suddenly you see a man in the water; he is fighting for his life, struggling to keep from being dragged away by the brutal force of water and mud. You move closer.

Somehow the man looks familiar...

Suddenly you realize it's George W. Bush! And it's obvious that the raging waters are about to swallow him up forever.

You have two options:
A) You can try to save him, or
B) You can take the best photo of your life.

So you can save the life of George W. Bush, or you can shoot a Pulitzer prize winning photo – a unique and historic photo depicting the last moments of one of the world's most powerful men.

---

And now, the question (please give an honest answer):

Would you select color film, or go with the simplicity of classic black and white?
:::
As if my posts weren't sporadic enough, it's going to be pretty busy for the next couple of weeks, so I may not be able to post very much. I'll try to sneak in a few brief ones now and then.
:::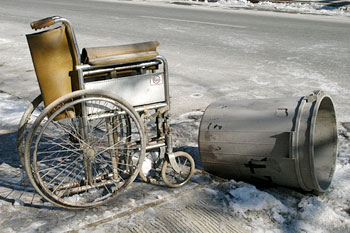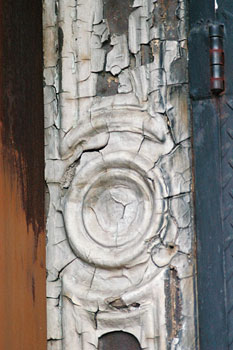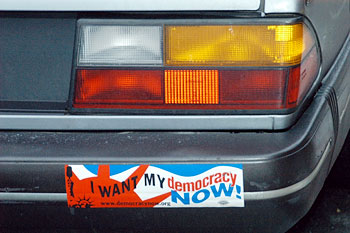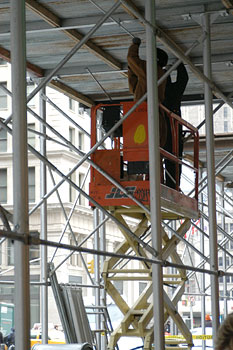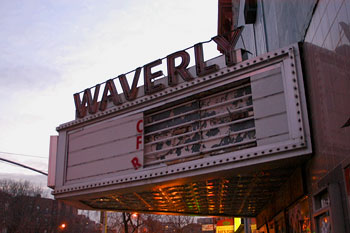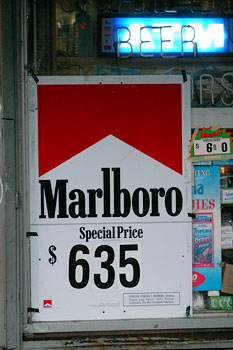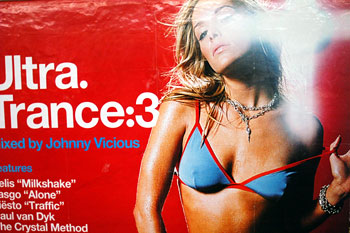 Sex and religion in a single poster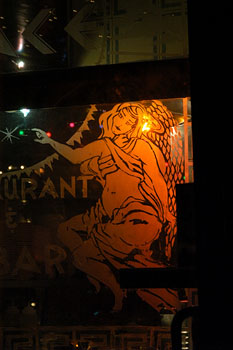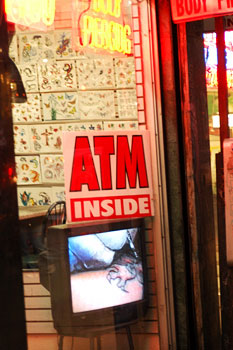 ...in case you need to pay for your tat with cash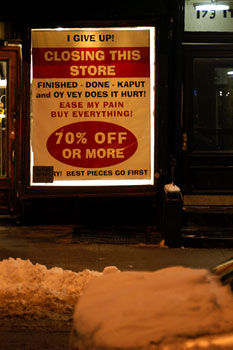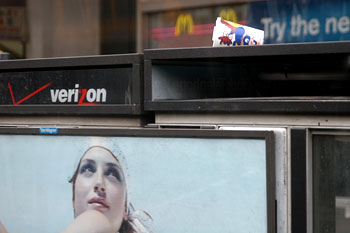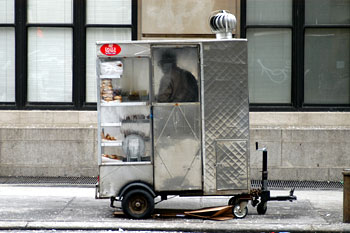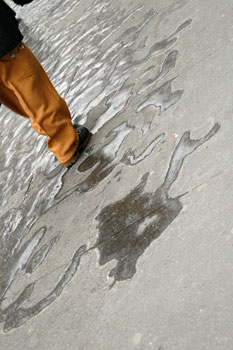 :::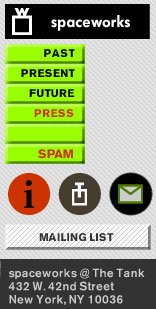 Spam Art Gets its Own Show
Confronted with spam, we all try to do something with it. When artists get spammed, artists make art. "Reimagining the Ordovician Gothic... collects, classifies, and displays exotic examples from the Golden Age of Spam." Pretty funny – can you imagine spam having a golden age? And what does Hormel think of having their pink mystery associated with e-mail everyone loves to hate? The show runs through Feb. 7 at Spaceworks Gallery.
Rageboy was turning his spam into online art last year. Now comes this traveling show that shares the same trigger.

:::
Jazz in Union Square
These guys could play.
I let a couple of trains pass by, so I could listen and take shots.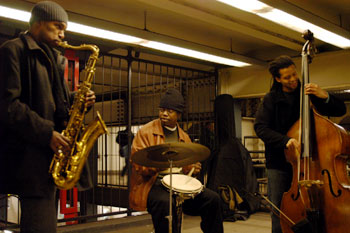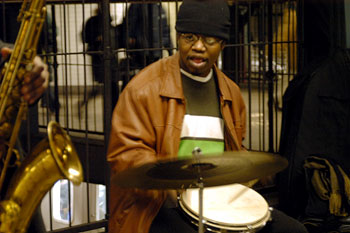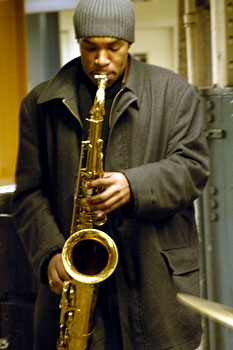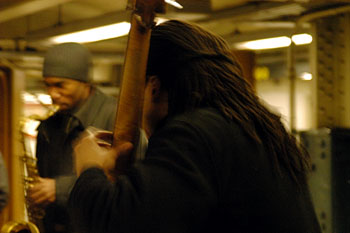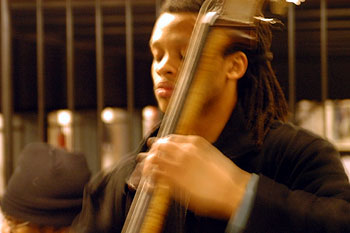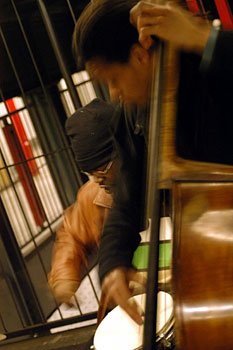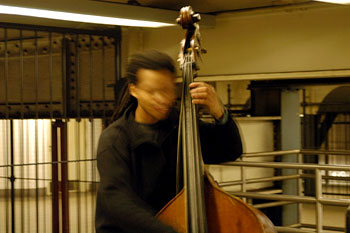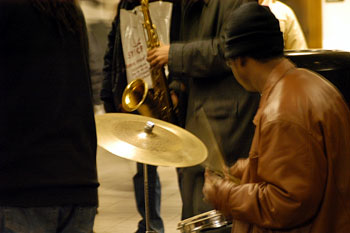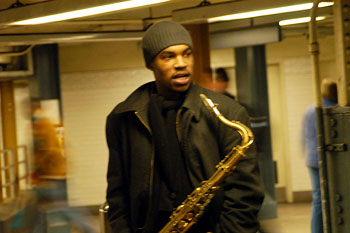 :::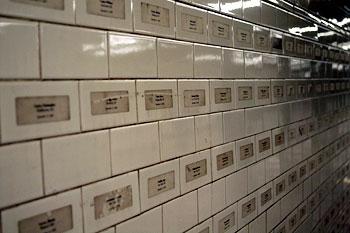 Up the hallway from the jazzmen is the latest attempt at a WTC memorial in the Union Square subway station. Self-adhesive labels, each with the name of an individual victim are carefully aligned in alphabetical order on the glazed cinder block wall. The labels are already showing a lot of wear and tear. I'll have to make it a point to see if I can find Joyce Ann Carpeneto's label next time I go through that station.