From: Mindy
Date: April 25, 2004 10:21:20 PM EDT
Subject: Fwd: FW: Job Dissatisfaction ? (from Lia)

The next time you have an "I hate my job" (or my life) day, try this: On your way home, stop at your pharmacy and go to the thermometer section. You will need to purchase a rectal thermometer made by Johnson and Johnson. Be very sure you get this brand.

When you get home, open the package and remove the thermometer. Carefully place it on a table so that it will not become chipped or broken. Take out the written material that comes with the thermometer and read it carefully.

You will notice this statement in small print:

"Every rectal thermometer made by Johnson and Johnson is personally tested".

Now close your eyes and repeat out loud five times:"I am so glad I do not work for quality control at the Johnson and Johnson Company."
Can you see it?: A guy walks into a bar... a little while later he's into a conversation with one of the other patrons...
"What sort of work do you do?"
"Quality control."
"Really!? Sounds interesting."
"Not nearly as interesting as you think."
"What kind of products to you test?"
"Oh, ah... Hey! How do you think the Mets are going to do this year?"
:::
My e-mail to the offending parties on that message board bounced back. So much for valid entries on Whois. I really don't want to have to sign up for their service, just to get a message through to someone. I've already written off to my hosting guy to find out what can be done on my end.
:::
Denise was working on a paper about writing last week – I mean the development of the first written language ever: cuneiform script. Writing emerged so that the rulers and the priests could keep records, especially accounting records – like how many bushels of wheat Inknhaton has paid in tribute this year. Epics and so forth came much later.
As cuneiform emerged, writing went from literal symbols to more abstract strokes: At first the "word" for "bird" was a pictogram of a bird. As language evolved, the symbol became more stylized. In English today, we have four abstract shapes (letters) that arbitrarily designate the vowel and consonant sounds we use to pronounce the phrase "bird," which in turn refers to the concept of a winged creature with feathers and a beak.
I'm also seeing a connection with semiotics. The other day, I wrote about the various modes of signs. A pictogram of a bird is operating in iconic mode, while letters are symbolic, but signs never operate purely in one mode. Take a photograph, for example: A photo resembles the thing it depicts, which makes the mode iconic; but a photo is also indexical – the elements of a photo have a direct relationship to elements in nature at the moment the picture was taken. Said another way, the photographic image is an index of the light captured by the lens at the moment of exposure.
Writing and photography have an idea in common: both are technologies concerned with preserving information. As I think about it, a lot of Human effort is about preservation; whether it's one of the numerous recording technologies we have, or food preservation, museums, or landmark conservation. Things are constantly changing, and we're hard at work resisting those changes.
If we went to Lakehurst, N.J. today, we'd find a brass plaque on the ground. Thanks to photography (and the cover of the first Led Zeppelin album), most of us know something of what Lakehurst looked like as the Hindenburg was consumed in flames. Imagine if we had only been able to pass that story down by word of mouth. How accurate would the account be today?
Kiss me before you suck my bandwidth.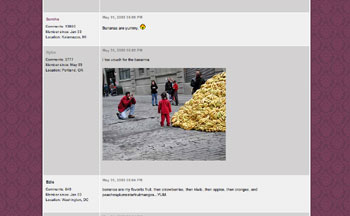 Checking my server logs tonight, I noticed an interesting referrer entry, so I followed the URL. At the other end, I found one of my pics from the DUMBO art festival. It was in some blathering message thread about loving bananas. I did a view source on their code, and realized that they were pulling the image directly off *my* server. It's bad enough they didn't credit or link back to me, but sucking my bandwidth, too?!
I wrote the administrators. We'll see what happens. Meanwhile, it's obvious I'm going to have to take some precautions on this end.