Got this e-mail from a poet named Brendan today. Certainly not his best work, but fun:


Date: Tue Oct 1, 2002  1:34:37 PM US/Eastern
Subject: East Village Sublet Available

Beginning November 15 but call immediately if you want it.

1 Bedroom Apartment in the East Village.

$1490/month.

Call Brendan to talk turkey.

Thanks!

***

When I find myself in times of trouble
Mother Mary comes to me
Speaking words of wisdom, sublet it be.
And in my hour of darkness
She is standing right in front of me
Speaking words of wisdom, sublet it be.
Sublet it be, sublet it be.
Whisper words of wisdom, sublet it be.

***

:::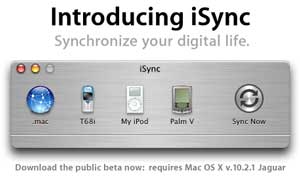 click the pic for more info.
I downloaded iCal last week, and started wondering about whether it could ultimately replace Palm Desktop. Well, with iSync's impending release, the answer appears to be "yes." It also looks like I can move my contact info out of Palm Desktop and into the Address Book app, and have one place for everything.
There are several Sony Ericsson phones (e.g. the T68M) that can sync with the phone book wirelessly via Bluetooth. Then, I'd have one-stop shopping (can you say "Digital Hub") for all my contact and planning needs.
Wonder if the Sony Ericsson phones are better than our current Ericsson T28 World phones. The T28s have given us trouble. Still the T68 looks like it's the same price as our current favorite as a replacement: the Motorola V.60. Of course, we'll see what the prices really look like when I talk to the Upgrade Department at [VoiceStream] T-Mobile.
AMIRI BARAKA & THE POLITICS OF POETRY
Governor McGreevey has called for the resignation of Amiri Baraka, New Jersey's poet laureate, citing a poem critical of Israel that was read at the Geraldine Dodge festival last week.

Who knew the World Trade Center was gonna get bombed,' read a line from the poem, entitled ôSomebody Blew Up America.'. Who told 4,000 Israeli workers at the Twin Towers to stay home that day? Why did Sharon stay away?

Baraka said he had no intention of apologizing or resigning. He strongly rejected the criticism, denied he is an anti-Semite, and said that criticism of Israel does not amount to anti-Semitism. "First of all, Israel and Judaism are not the same, and to hide behind Judaism every time someone criticizes Israel is a charade,'' Baraka said. "Anything that I said in that poem can be referenced.'' The poet laureate position was created in 1999 and pays $10,000 per two-year term. The title of poet laureate and the grant money cannot be rescinded, and the decision to resign is entirely up to Baraka.
- From the Poetz Monthly Update newsletter
I don't buy the story about 4,000 Jewish workers staying away from work at the WTC that day. It's just hateful nonsense. It is also quite clear to me that it would be as big a mistake to equate Israel with Judaism as it would be to equate Mecca with Islam (which in today's frantic climate is often equated with terrorism), or Washington with Democracy. We don't need to gag poets. We need genuine dialog. We need a commitment to resolution instead of righteousness. If anything's un-American, it's the war-mongering nouveau Mc Carthyistic movement that's afoot. But if Bush (Sr.) and Quayle were able to make hay with Ice T's "Cop Killer" why not try to play the same card with Baraka - a militant from way back? The sad thing is that our leadership is running up a tab that the next several generations are going to have to pay, and I'm not talking about money.