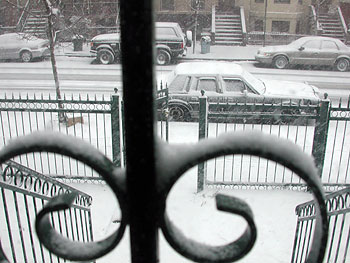 It's coming down here in Brooklyn. Big, fluffy flakes.
Gotta run for now. Maybe more later.
"You burn your own fire and it heats up other people." - Ani DiFranco
:::
The cost of the war in Iraq:
(JavaScript Error)
:::
Am I my Ring Tone?
More and more often, when someone's cell phone rings, you don't hear some nondescript sound. Instead, it's something like "Eine Kleine Nacht Musik" or "Play That Funky Music White Boy." Frequently, it seems as if they're trying to let as much of the song play as possible, before answering. I've started to notice that the ring tone you hear comes across as a kind of theme song for the person carrying the phone. The song means something to that particular owner. What are they trying to say about themselves by that choice of music?
Sometimes, the ring-song doesn't seem to fit the silent stranger sitting across from me on a bus. I find myself editing my impression of that person, based on what I'm now hearing. When you hear that generic Nokia "song" or a simple electronic ring tone, do you ever have the thought that the person receiving the call is just a little behind the times?
:::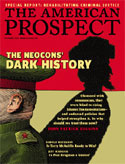 "Obsessed with Communism, they were blind to rising Islamic Fundamentalism – and endorsed policies that helped strengthen it. So why should we trust them now?" - Tag for the John Patrick Diggins story. More info

:::
Blackface and Satire
I saw a piece on the E! True Hollywood story the other day about Ted Danson's appearance at the Friar's Club to roast Whoopi Goldberg. I'd forgotten about the furor that was raised, and I was curious to see if I could find an actual transcript of what he'd said. I didn't find a transcript, but I did find several items connecting the Danson incident with Spike Lee's movie "Bamboozled" and with the singer Al Jolson.
Denise and I have watched "Bamboozled" several times, and found that the movie was unfairly panned, but articles by Roger Ebert and Notcoming.com may shed a little light on where it runs aground. Certainly, "Bamboozled" demonstrates that when you mess with certain images, they can be so powerful that no matter what you try to say about the image, you only end up reinforcing the metaphor you were trying to strike down.
Satire is a tough arena to begin with, and it's even more problematic, when character traits overwhelm the story. Still, the movie is successful in highlighting how the accepted portrayal of African-Americans in television and film is typically buffoonish, or restricted to one of a very narrow range of alternate stereotypes. Just think about how much flack the "Cosby Show" received for its atypical portrayal of a black family.
While we're on the subject of blackface, there's no forgetting Al Jolson, whose image is likely to be the first that comes to mind when you hear the term. This article attempts to cast him in a more sympathetic light.
"The eye is blind if the mind is absent."- I don't remeber where I saw that quote. Sorry.
:::
Getting "Real"
"No one with an interest in how things are represented can afford to ignore an approach which focuses on, and problematizes, the process of representation. While we need not accept the postmodernist stance that there is no external reality beyond sign-systems, studying semiotics... can make us less likely to take reality for granted as something which is wholly independent of human interpretation... We may come to realize that information or meaning is not 'contained' in the world or in books, computers, or audio-visual media... we actively create it according to a complex interplay of codes or conventions of which we are normally unaware. Becoming aware of such codes is both inherently fascinating and intellectually empowering..."
- From Semiotics: The Basics by Daniel Chandler
We're still eating delicious left-overs. I got a kick out of noticing that many of the shows that aired on Food Network on Friday were about how to make interesting meals with left-overs. I bet they'll be running similar shows the day after Christmas. We didn't really watch any of those shows very closely. We're pretty resourceful with left-overs already.
The left-over turkey is great. I brined the bird for six hours before roasting it on Thanksgiving. The meat was so moist, it was amazing. The legs and wings didn't dry out, either. To give the bird color, I slathered it with canola oil and roasted it at 500° for half an hour first. Then, I turned it down to 350° and roasted it until the internal temp. reached 161°.
:::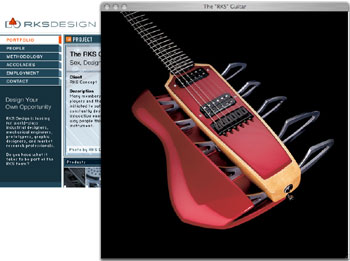 RKS Design is doing some amazing industrial design work. The guitar [check the portfolio section] is actually in production, and got a good write-up recently.
In the review, two musicians put the guitar through its paces. I think the piece was in Eye magazine, but I can't find the article on their site.