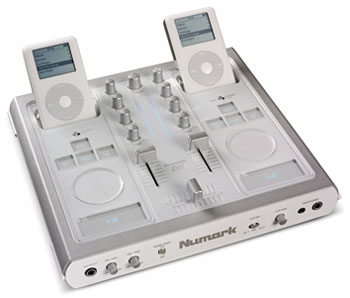 'Pod Mixer
For the DJ who has to have everything, Numark, the DJ mixing console company, has done it again. Mix and scratch a pair of iPods. It even has a hole in the bottom so you can place it over your turntable spindle.

:::
More T-Shirt Culture
Two women standing near an outdoor cafe started a stir at one of the tables. One of the women was wearing a shirt that read 'Please Don't Feed the Models.' She wasn't model-skinny. The diners apparently thought that she was referring to herself.
On the heels of noting that the 'JUICY' motif sweat pants seem to have faded away, I spotted a woman boarding a Brooklyn bus wearing a T-shirt proclaiming 'I'M JUICIER.'
The AP and the Philadelphia Enquirer have recently run stories about the controversy over 'Don't Snitch' T-shirts. They're selling like hot cakes. Cops and civil leadership are up in arms. Prosecution is already difficult enough, they say, without additional witness intimidation. This fad too shall pass. The shirts just expose a pervasive attitude.
This afternoon, I saw a mother with two children on the train platform. She sported a tattoo that read 'Sexy Bitch.' Yeah. That's tantalizing. But then, she did have two kids, so I suppose that advertising sells somewhere.
:::
Criminal Justice
60 years ago, the state of Georgia executed the only woman to die in the state's electric chair.
In her one-day trial, Ms. Baker, who was black, testified that E. B. Knight, a white man she had been hired to care for, had held her against her will and threatened to shoot her. She said she grabbed a gun and shot him when he raised a metal bar to strike her. She was convicted by an all-white, all-male jury.
- A.P. report
If you did the math, you know that was 1945. She's being granted a posthumous pardon, but the board granting the pardon has stipulated that they are not indicating that she was not guilty of her crime...
All That Jazz
I TA'd a course in Photoshop Layers and Masks this weekend at ICP. The instructor related an analogy from a friend of his, saying that working with Photoshop was like playing Jazz: Photoshop is a kind of keyboard instrument, where you learn the basics, and then find your own style of improvisation. I think it's an apt comparison.
:::
Our Bodies, Our Billboards
This weekend, I skimmed the Czech artis magazine Umelec [not the proper spelling – the first e has an accent that's only supported in Unicode]. An article described a 2001 exhibition of artistic t-shirts, where the curator's preface stated:
At the end of the last millennium, the t-shirt became a space to convey opinions, frustrations, inclinations, messages and jokes. With its wearer, the t-shirt becomes a stimulus for manifold daily reactions. The space occupying the body may be an ideal platform to ... express feelings, ideas, provocations, or questions.
The article went on to suggest that we ourselves have become advertising spaces, but that the concept is tenuous and indistinct for most people. Hardly anyone critically reviews the texts they are wearing on various parts of their body.
Almost as often as I've seen women wearing the "Boy Breaker" t-shirts, I've noticed older women wearing t-shirts that read "Baby Girl." I've never asked anyone wearing one of these shirts what it means to them, but I'm sure that it has resonance for them. A number of women wore sweat pants with the word 'JUICY' emblazoned across the butt last year. Those seem to have fallen out of vogue this year – maybe that had to do with the responses the message elicited.