I just heard that Ed Bradley died of Leukemia today. He was only 65. He did some great work on 60 Minutes.
:::
The end of October
brings two fun events: the Halloween parade and the Marathon. I shot both. Click the pics to see a gallery for each.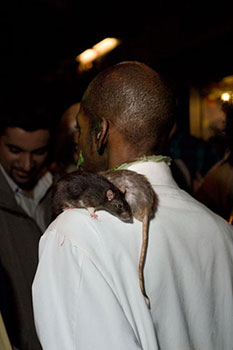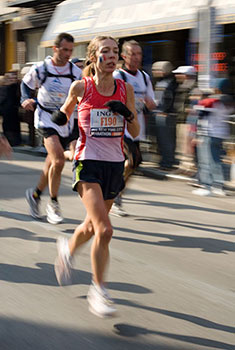 :::
But Wait, There's More...
Waking up yesterday was a little bit like waking on Christmas morning when I was a kid. The radio crackled with the news that the Dems had taken the House, as expected. Like a basketball circling the rim, it seemed they were poised to take the Senate, too, but we'd have to wait and see if the ball would drop in.
Then, came the surprise afternoon visitor: Rummy had finally stepped down. My first thought was that Bush could not have had him step down any time in the last six weeks, because it would have looked like the White House had been swayed by pressure. We may come to miss the old buzzard's surrealist poetry, but I doubt much else.
Equally exciting is the prospect that Pataki is finally leaving the Governorship of New York. I have a good feeling about Elliott Spitzer. I think he comes from the right background, though I wonder about his ability to alter the momentum of some of the massive projects Pataki & Co have already put in place.
The elephant in the room has been dealt with. Now, let's hope that the new 'guys' (were any women elected in all this?) don't turn out to be jackasses. Pelosi and company seem to be striking an appropriate tone so far.
I'm listened to George Allen concede Virginia as I typed this. He started by thanking God for his wife Susan, and made reference to the Bible in his speech. While he acknowledged that the outcome of a recount would probably not produce different results, he couched his decision not to ask for a recount in terms of doing the right thing: living a purpose-driven life, avoiding further rancor, and dragging the process out until December.
Allen spoke metaphorically of a deep-rooted tree that grows back after it's been damaged:
Sometimes winds, political or otherwise, can blow the leaves off branches or even break limbs. but a deep-rooted tree will stand, stay standing; it'll re grow in the next season. In this season, the people of Virginia — who I always call the owners of the government — they have spoken. And I respect their decision.

The Bible teaches us that there's a time and place for everything and today I've called and congratulated Jim Webb and his team for their victory. They have the prevailing winds...
Political winds = blowhards? Broken limbs sounds like broken arms or legs. There's a piece of this that even seems to connect back to Bush's Katrina disaster, and Allen's own hot air moment.
The speculation is that Allen was mostly alluding to his own run to regain a Senate seat in the future, but there's a chance he was also talking about the conservative movement, which seems to have taken it pretty hard on the chin in this election. Considering how vigorously conservative pundits are already denying that voters signaled their displeasure with social conservatism, perhaps they protest too loudly.
Impressive — I heard that the voter turnout on Tuesday may well be the highest since 1984. Independents turned out in record numbers.
CNN's coverage of Jim Webb's speech this afternoon picked up on Webb after he'd started speaking and cut away before he was done. That's very different from the way Allen's event was covered.
Britney... OK, I don't think she had to wait until after the mid-term elections to file for divorce, unless her publicist was worried that the story would get lost in the run-up to election day. A few months ago, she was indirectly involved in a political skirmish set in an art gallery. An artist had contrived a pro-life statement by sculpting a life-sized Britney on all fours delivering a child on a bearskin rug. To top-off the context, a pro-life group had been invited to leaflet gallery visitors for the opening. If she was aligned with the artist, maybe yesterday was a bad day for her, too.