The Oscar nominees came out a few days ago. Sorry Giamatti got passed over for Sideways. I liked Thomas Haden Church's character, but it wasn't as strong as Giamatti's.
My picks (not my bets — that might come later, after I review what the critics are saying):
ACTOR IN A LEADING ROLE:
Clint Eastwood - Million Dollar Baby
ACTOR IN A SUPPORTING ROLE:
Thomas Haden Church - Sideways
ACTRESS IN A LEADING ROLE:
Hilary Swank - Million Dollar Baby
ACTRESS IN A SUPPORTING ROLE:
Laura Linney - Kinsey
ANIMATED FEATURE FILM:
The Incredibles
DIRECTING:
Sideways
DOCUMENTARY FEATURE:
Born into Brothels
FILM EDITING:
Ray
BEST PICTURE:
Sideways
SOUND EDITING:
Spider-Man 2
SOUND MIXING:
The Incredibles
VISUAL EFFECTS:
I, Robot
WRITING (ADAPTED SCREENPLAY):
Sideways
WRITING (ORIGINAL SCREENPLAY):
Eternal Sunshine of the Spotless Mind
Mind you, I didn't see more than three of the movies in any category, and I didn't even bother to make a pick on some of the categories. It's funny that there are separate categories for sound mixing and sound editing, when it's got to be incredibly difficult to hear good sound editing or sound mixing when it's going on, and then to compare several movies on that quality alone?! Egads! Given what it must have taken from a sound engineering standpoint to make both the Incredibles and Spider-Man 2 work, I split the difference.
On the other hand, I decided that Sideways was so strong in both direction and writing, that it would be absurd for it not to win Best Picture... but then talk to Spielberg about absurdities like that. I think Ron Howard might have a thing or two to say about it as well.
I really liked Million Dollar Baby, but considering the tough material that it explores, and the lack of that uplifting, rah-rah Hollywood ending, I think it's a long shot for Best Picture. Plus, Clint already won for Unforgiven. [Oscar winners]
:::
Monday
I got into Manhattan early, and took a walk around. They'd done a very good job of digging out by 10am.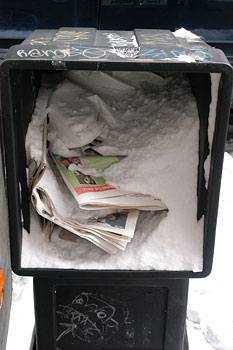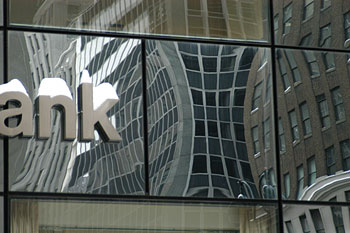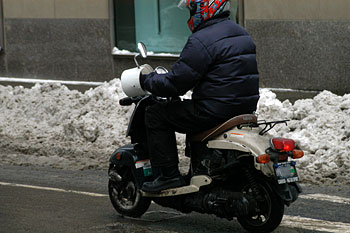 Plastic buckets protect the hands from wind chill.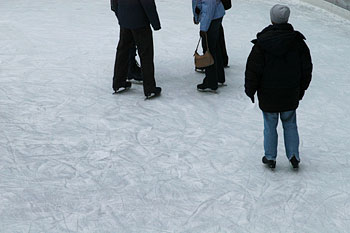 Rockefeller Plaza rink: cleared and getting plenty of action.
The Snow
came in suddenly enough. Around noon, I'd looked out the window, and saw dark skies, but nothing else. Ten or fifteen minutes later, the snow was coming. It only took a few minutes to put a fine coat of powder on everything. Despite dire warnings from the weather service, we went into Manhattan for a few hours. By about 4 pm, we were thinking about cross-country skis and snowshoes. We picked up some items to complete last night's dinner and this morning's breakfast, a couple of bottles of wine, and a couple of movies, then headed home. Denise made a snow angel around 5:00. By 8:00, it was pretty well smoothed-over.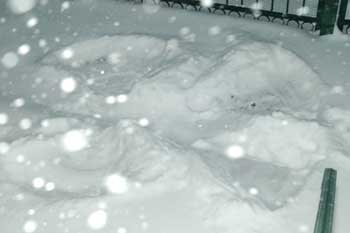 It's just about over as I write this. We're somewhere inside the orange circle, as the storm seems to be bearing down on Cambridge and my alma mater.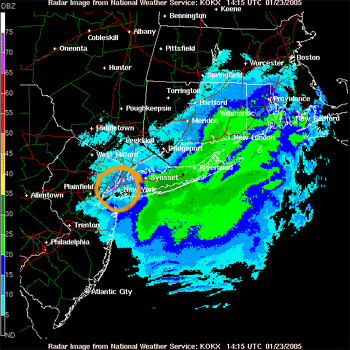 I figure Yale is getting a good dusting, too.